Check your zipcode
Not Yet Available
Sorry we don't delivery to your area (yet!)
Get in touch to be added to our list of upcoming areas!
Hey there ! Yep, we deliver to on s!
What customers are saying...

"I recently became a mom of two and I am a Registered Dietitian by profession, so even as my family changed, I wanted to maintain well-balanced and thoughtfully created meals to feed my them. THANK GOODNESS for Maven Meals! I have been SO HAPPY with my decision to outsource almost all of my weekly meals to them. Everything is delicious, the preparation directions are easy and spot-on, AND I can honestly give it my seal of approval when it comes to balanced nutrition. Thank you for your great work and for helping me during this time."
"Maven Meals is a LIFESAVER. No minimums, you don't receive if you don't order, so no more trying to "keep up" with meal deliveries. You order what you want, as many servings as you want, when you want and it's delivered to your door. Most meals are heat-and-serve. With fish there's a little prep, but they tell you exactly how, and how long the food will stay fresh in your fridge. Oh, and did I mention the food is AMAZING!? Absolutely decadent, yet healthy. Great variety, veggie options and the sides are sold separately so you can skip them or double up.
"It's really easy to miss out on a healthy diet working in Seattle. Maven Meals has been a godsend! I just started ordering a few weeks ago and I'm glad I did. The menu rotates every week and there's always plenty to choose from. Everything is healthy and delicious! Feels great -- I'm now eating nutritious meals all the time, and I've found myself snacking less and less every day. Great service!" 𝐔𝐩𝐝𝐚𝐭𝐞: "After a year of using them, I'm very glad I found Maven Meals. I've been enjoying their tasty meals every day. :)"

"Wow! Every week we look forward to our delivery and the meals are amazing!!!! We have loved every item and I recommended them to 15 friends right away. We've had salads, soups, entrees, sides, and desserts and honestly can't begin to say how much we love everything. We used to eat out 3-4 times a week but with COVID can't and thank goodness a friend shared the gem of Maven Meals with me. We're so appreciative of all of them making and delivering great meals! 💟💟💟 "
"Everything I have tried has been amazing and I love that it's delivered right to my steps. I have tried other meal delivery services, but I get annoyed by the subscription-based ones, where I have to remember to skip or modify the menu or else I am stuck with food I can't, or don't want to, eat. Also, others, like Freshly, are just the same options over and over, and they're not nearly as good as Maven's. Every week I get to look forward to a new delicious menu to choose from."

"2020 hit our family hard in terms of being able to meal plan. We found ourselves planning lofty meal ideas, buying the groceries and then executing on cooking maybe two of those meals. Money was lost, and we were relying on unhealthier options (in addition to buying all of the unused goods). So, we turned to Maven and have been ordering ever since. Their food is excellent. My favorites so far are their seafood coconut curry (which is to die for), their salads, orzo salad, Israely salad, delicious chicken soups, too many to name. Thank you Maven for helping feed our family with tasty and healthy options. We are super appreciative."
"I am embarassed by how much I love this company. My spouse and I both work very demanding jobs and struggle to muster up the energy at the end of the day to cook. Our diets had become increasingly dependant on takeout, and I was feeling really guilty about not providing my family with healthy, home-cooked meals. Then I discovered Maven Meals. I'm obsessed. We have ordered for the past two weeks and plan to continue. The food is fresh, VERY tasty, healthy, and considerably cheaper than takeout or other "meal kit" delivery services. We eat mostly vegetarian and I love that the veggie options don't depend on "impossible" meats or tofu "steaks". The comfort of knowing that we have prepared meals available is helping me to fall in love with cooking again. Highly, highly recommend!"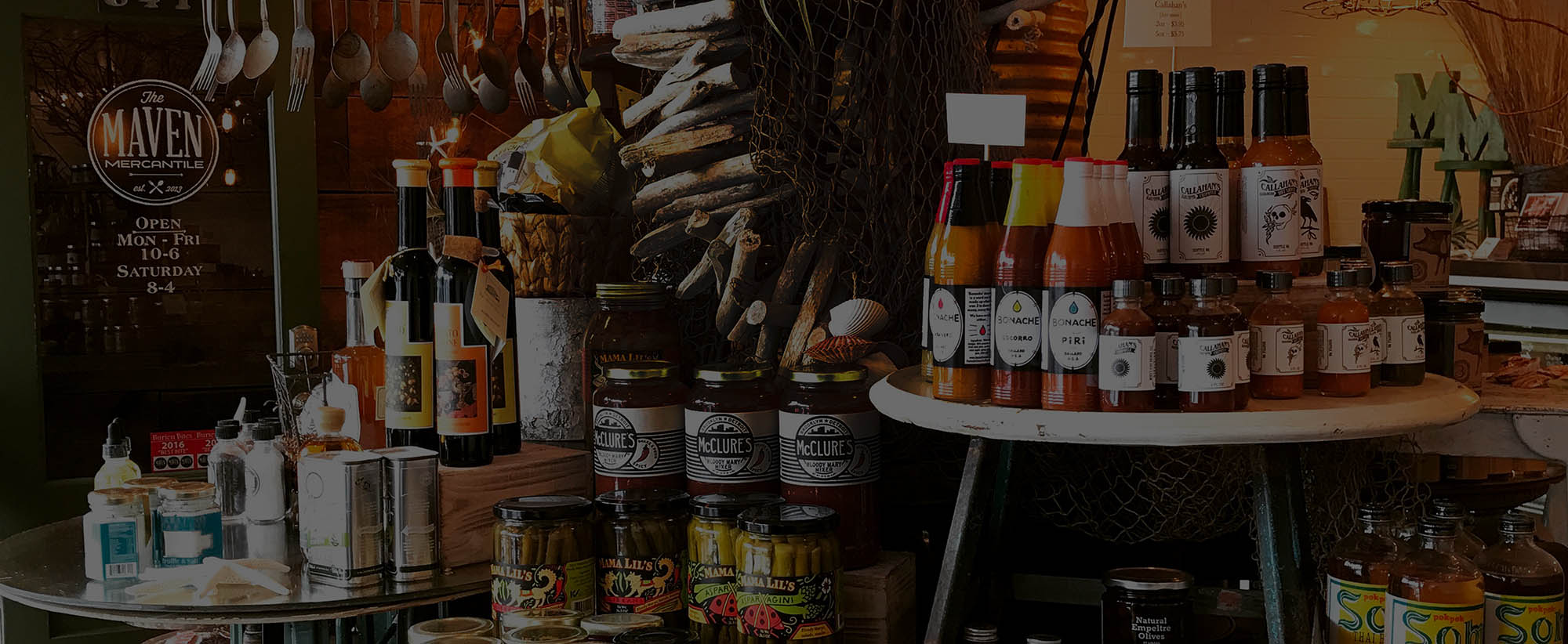 Maven Mercantile

From local pickles and hand-crafted vinegars to select salts and custom granola mixes, you can order direct from our pantry to your mail-box.
Mail-order from Maven Mercantile