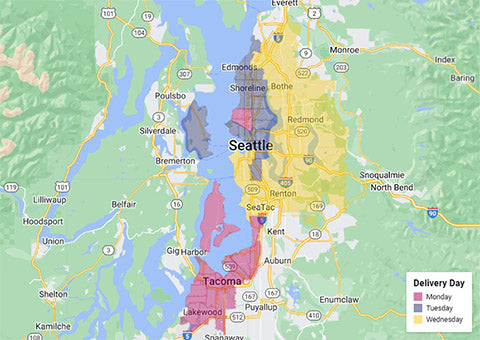 Maven Meals delivers to your doorstep in specific zip codes throughout the Seattle-Metro area and the benefits are huge:
It's Simple
No Minimum Order
Maximum Deliciousness
Receive your meal delivery at the office or at home. Just make sure there is a protected place out of the weather where we can leave your delivery full of tasty meals.

Unfortunately, we are unable to deliver to secure buildings with no receptionist without an access code. If there is a code for us to input to get into the building, please add this to your Delivery Notes on your order
There is a $4.99 delivery fee on all orders. At Maven Meals we're big fans of sustainability and we do our best to make as few stops as possible when delivering your meals. When 3 or more people in one building or office have meals delivered we'll reward you by crediting the delivery fee to your account for use the following week! Just shoot us an email at staff@mavenmeals.com and let us know there is a group of you. 
Each area has a designated delivery day either Monday, Tuesday or Wednesday that is dependent on your zip code. Use our Zip Code checker below to see what day your delivery lands on!
Depending on your zip code, there are 2 ways your deliveries will arrive (for more information, please check out our FAQ page):
In corrugated cardboard boxes with ice packs & insulated liners, and delivered between 9:00am-6pm. 
         - or - 
In paper bags that are delivered from refrigerated access points near your home, with no ice packs. For these zip codes you'll schedule your two hour delivery window after placing your order. 
Check your zipcode
Not Yet Available
Sorry we don't delivery to your area (yet!)
Get in touch to be added to our list of upcoming areas!
Hey there ! Yep, we deliver to on s!